From Fast Emergency Plumbing to fabulous Bathroom Refurbishments!
…We're not just emergency plumbers.
If you're thinking that now is the time for a new bathroom that can soak away your daily stresses in luxurious bubbles or perhaps you prefer an elegant walk-in shower?
Whatever your bathroom needs, contact the expert A&E team for a fresh quote and FREE Bathroom Design for your consideration.
Hello and welcome to A & E Plumbing! Our emergency plumbing services are available 24/7, so whether you have a burst pipe or a broken-down boiler, feel free to give us a call at any time on 07799 777 072 for a quality service at a highly competitive rate.
We are delighted to offer the following services as standard to all clients: total plumbing solutions, gas and boiler repairs, bathroom refurbishments including plastering and tiling all with free design and project management.
Based in Glossop, we offer our services throughout the surrounding areas including Tameside, Manchester, Oldham, New Mills and the surrounding picturesque areas.
Why should I choose A&E Plumbers?
Highly Qualified
We are WaterSafe Approved, City & Guilds qualified, and all gas work carried out is Gas Safe registered (all documents are available upon request).
Very Experienced
Our wealth of experience means you can depend on A & E Plumbing to provide you with an efficient and professional service.
Quality Approved
Our family run business takes exceptional pride in our work, which is carried out to the highest possible standard guaranteed.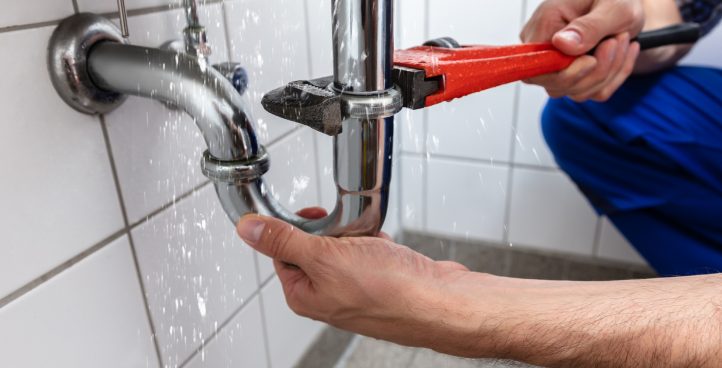 Do you have a leak, or a burst pipe?
Use our fast and efficient A & E Plumbing emergency service. ACTIONS to take:
Turn OFF water supply at stop cock
Use number below day or night
We'll be with you within 2 hours
For fast response, do NOT use contact form.

TOILETS & FAUCETS
Blockages, loose connections, warn out washers and stop cocks.
When it comes to household plumbing issues, there's little more annoying than a broken or poorly functioning toilet or sink. Not only can toilet problems cause your utilities bills to skyrocket, but they can also make using your bathroom a nightmare.
To prevent your toilet or sink from causing irreparable damage, it's important to seek a professional plumber at your earliest convenience.

HOT WATER HEATERS
Your water heater works hard behind the scenes in your home, providing hot water for your taps and appliances. But sometimes it works a little too hard, leading to problems that could require professional service.
Do you have:
water temperature issues?
a leaking system?
Discoloured water?
Odd noises coming from the heater?
If so, we strongly recommend you seek help now!

DRAIN CLEANING
Problems with your drains are not fun to deal with. Mild problems could be inconvenient, but if you leave an issue too long, it could turn into a disaster.
There are several signs of drain problems to watch out for:
Slow draining
Low pressure
Small flooding
Bad odours
Strange Sounds


General Repair Work
There are many things that can go wrong
We have experience in dealing with all aspects of emergency plumbing for both the kitchen and bathroom area.
If you have an emergency, please do not hesitate to contact A&E Plumbers direct.
Full Bathroom Refurbishment
Breathe new life to your bathroom and get the WOW factor!
Look no further than A & E Plumbing for your next bathroom refurbishment project. We offer free designs and a full project management service as standard for all clients.
Are you looking to breath new life to your bathroom and get it to a design standard that achieves the WOW factor?
Then look no further than A & E Plumbing for your next bathroom refurbishment project. We offer full project management as standard for all clients and have a wealth of experience to achieve a complete bathroom overhaul. We dont just plumb, we can also offer full:
Design and Refurbishment Services
Get the Bathroom of your dreams
Our work is trusted and recommended
We take great pride in our work and the referrals that clients so kindly leave behind for us.
For further acknowledgements that illustrate the quality of our work, please use the links provided that take you to trusted 3rd party industry regulated websites.